NYC Real Estate Attorney Natalia A. Sishodia Shares Insight on Hiring Real Estate Lawyers in New Article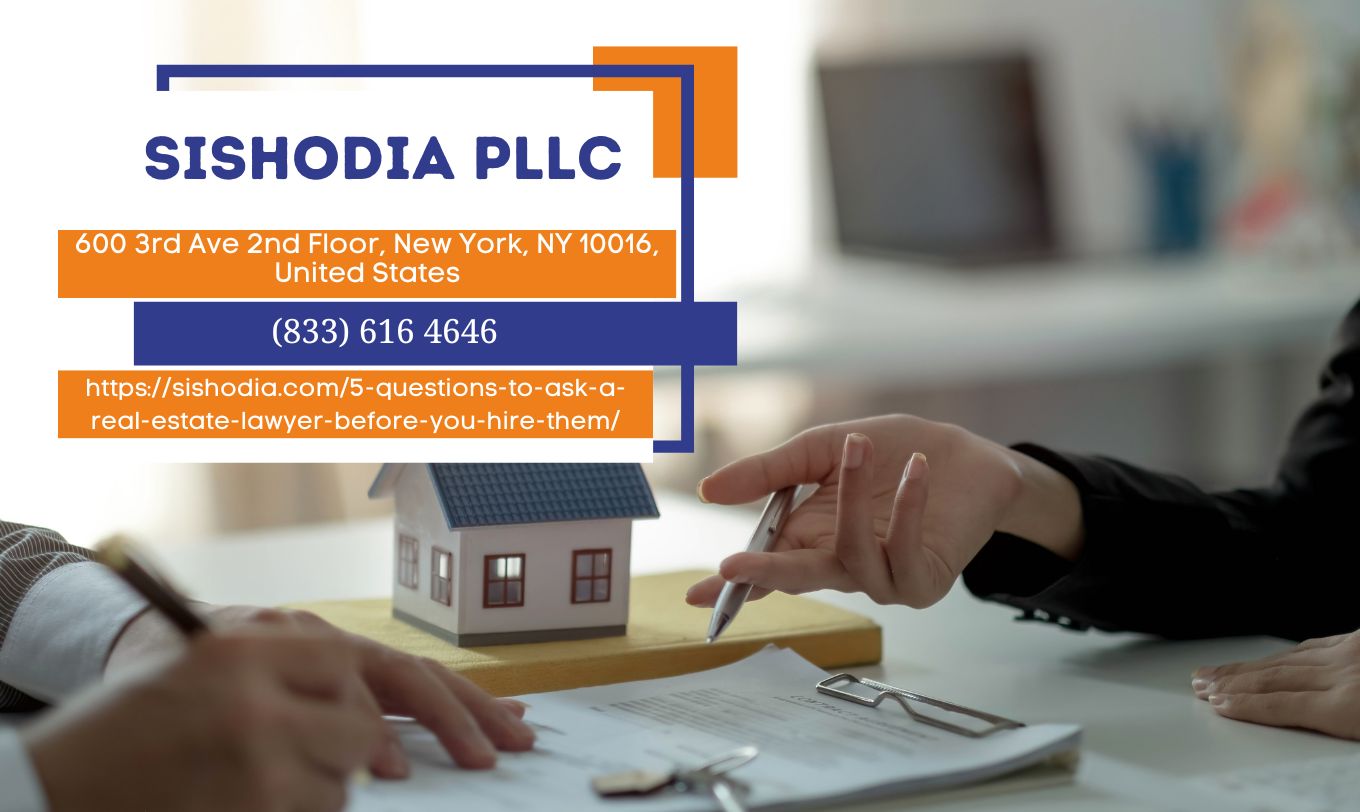 NYC real estate attorney Natalia A. Sishodia (https://sishodia.com/5-questions-to-ask-a-real-estate-lawyer-before-you-hire-them/) has recently published an invaluable guide titled '6 Questions To Ask a Real Estate Lawyer Before You Hire Them.' In this enlightening article, Sishodia shares her insights on the essential questions potential clients should ask before securing the services of a real estate attorney.
The first paragraph of the article underscores the importance of having a skilled NYC real estate attorney handle property transactions. Sishodia explains that buying and selling real estate can be stressful and may leave individuals legally vulnerable, particularly in the fast-paced and complex NYC real estate market. A real estate attorney's role goes beyond basic real estate knowledge, extending to dispute resolution, contractual fulfillment, and navigation through the multifaceted legal landscape.
The NYC real estate attorney points out that while real estate agents and title companies are valuable resources, their services have limitations, particularly in complex New York real estate transactions. "While agents are an invaluable resource, they can't dispense legal advice and are only liable for the specific services they are licensed to perform," Sishodia states. "New York real estate transactions can get really complicated and require an experienced attorney to navigate through the process."
The article provides readers with an informative breakdown of the different questions to ask when considering hiring a real estate attorney. These questions cover a wide range of topics from the lawyer's primary area of practice to their familiarity with the client's specific type of real estate transaction. Sishodia emphasizes the importance of understanding the attorney's role in the process, the extent of their services, and their fee structure. She also highlights the potential pitfalls during the attorney review phase of a real estate transaction.
The NYC real estate attorney also elaborates on the importance of clarity regarding the lawyer's services and fees. She warns against being lured by an attractive fee structure without understanding what it includes. "If one is interviewing an attorney with a too-good-to-be-true fee structure, one may be paying extra for everything from the copies they make to the time they spend on a phone call on behalf of the client," advises Sishodia.
Sishodia's article provides valuable insights for anyone navigating the challenging NYC real estate market. This guide offers a comprehensive list of questions that potential clients should ask before hiring an attorney, ensuring they get the best possible legal guidance for their specific needs.
Remember that knowledge is power. By asking the right questions and understanding the role and value of a real estate attorney, one can make informed decisions, protect their interests, and smoothly navigate the complex world of real estate transactions.
About Sishodia PLLC:
Founded by Natalia A. Sishodia, Sishodia PLLC is a reputable law firm focusing on New York real estate law. With a team of experienced lawyers, Sishodia PLLC offers top-tier legal representation, from first-time residential sales to highly-complex commercial transactions. The firm's commitment to providing precisely crafted and individualized legal services has made it a trusted choice in the NYC real estate market.
Embeds:
Youtube Video: https://www.youtube.com/watch?v=LTCI8K9zBH0
GMB: https://www.google.com/maps?cid=12450537318741950980
Email and website
Email: [email protected]
Website: https://sishodia.com/
Media Contact
Company Name: Sishodia PLLC
Contact Person: Natalia A. Sishodia
Email: Send Email
Phone: (833) 616-4646
Address:600 Third Avenue 2nd Floor, 600 3rd Ave Second Floor
City: New York
State: New York 10016
Country: United States
Website: https://sishodia.com/