It's Okay to Exercise Your Faith – Courtney Lee Simpson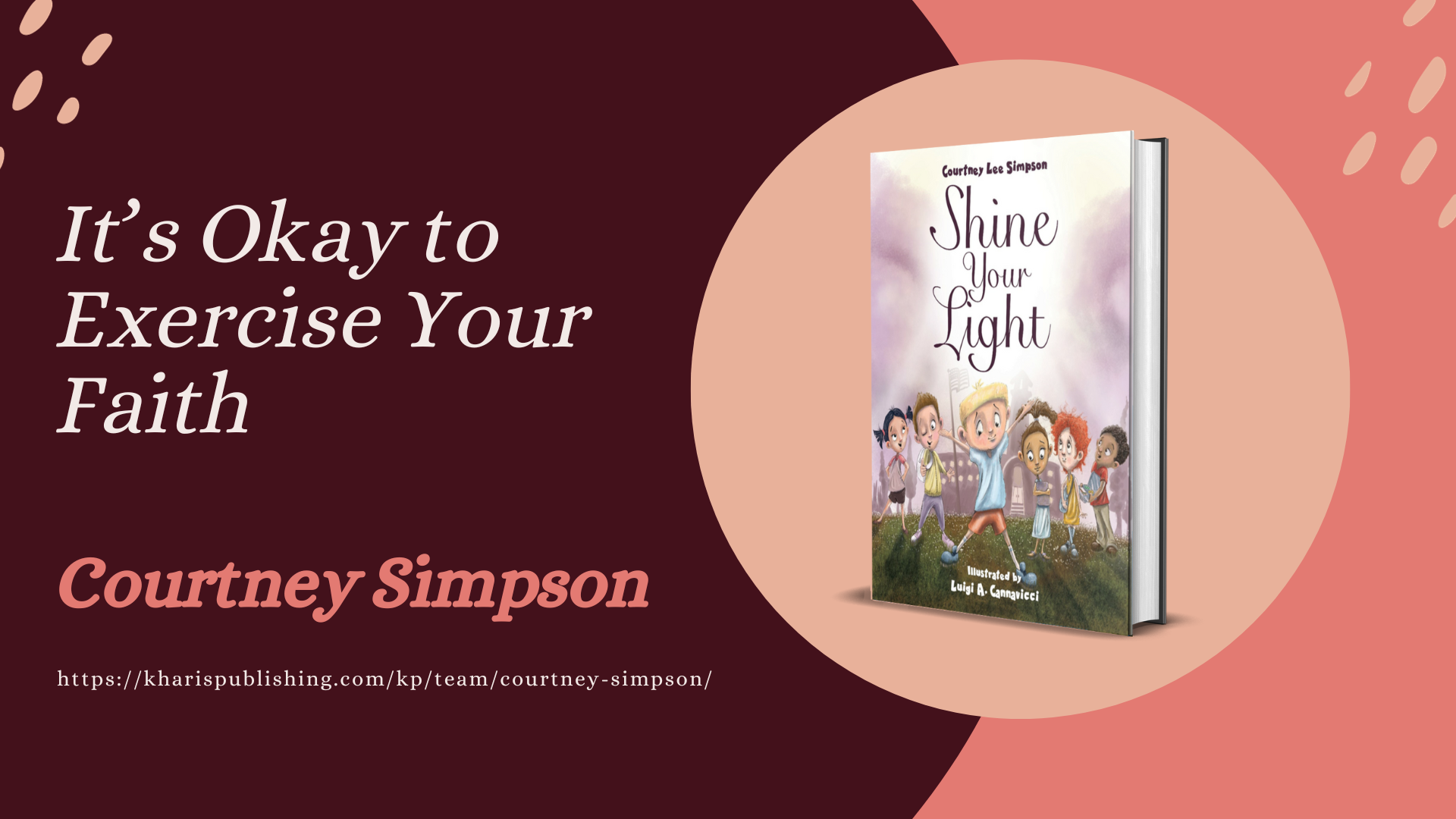 Kharis Publishing announces the release of "Shine Your Light" by Courtney Lee Simpson, a beautiful story of kindness and friendship that encourages children to seek emotional healing.
It's Okay to Exercise Your Faith in Schools
The First Amendment protects our "First Freedoms," our freedoms of religion, speech, assembly, press, and petition. With our first right being religion, why should students, teachers, parents and others feel their religious freedom is stripped away when they enter a public-school building? There is so much fear and anxiety when people feel they need to, but are unable to, exercise their faith.
We the people have the freedom to believe, imagine, and think anything we choose. We the people also have the freedom to speak of anything we choose. We the people have the freedom to gather in peaceful groups. These freedoms define what it means to be an American. No one should ever feel like they must forfeit these freedoms.
Separation of Church and State is the idea that the government does not control religion and religion does not control the government. some feel, however, that this means there should be no religion involved in places such as public schools, which are funded by taxes and governed by elected boards of trustees. This is not necessarily the case. The Bill of Rights guarantees that our government can never deny any of us our First Freedoms, in this case, the right to freedom of religion. The government cannot tell teachers in privately-run schools what they can and cannot teach. Separation of Church and State in public schools means that religious instruction of any kind is prohibited, because if public schools provide instruction in one religion, they must provide instruction in all religions.
Does this mean that individuals cannot exercise their faith in schools? Does this mean teachers, students and all others should suspend their beliefs and love for their beliefs from the moment they enter their school until the final bell rings? The answer to these questions is, No, yet there remains that fear of exercising our faith in public schools. Here are a few examples of people from a number of places who felt otherwise and faced consequences. All names and locations have been changed.
A school staff member told a little girl she needed to remove the cross she was wearing around her neck, telling the child her jewelry was offensive to some staff and students. The little girl cried, but she removed her cross necklace and hid that piece of her faith in her jeans pocket.
One year, a teacher tried to form a morning prayer group where teachers and staff might come together and pray for each other. A staff member informed the teacher that another teacher was going to report them to the administration, even though this group was not impeding the beliefs and/or work of the person reporting.
A student drew a picture of Jesus on the cross during free time. He was so excited about his work and showed the teacher. She told him to put the drawing in his backpack. The little boy didn't understand why he had to quickly put his artwork away, but he did so he wouldn't get in trouble.
A teacher was told that she shouldn't have prayer time near any camera in the school building because it would be recorded and could be reported. The teacher was told if she was caught praying visibly, even on camera, she would lose her job.
In a school lunchroom, two students were speaking about church; they attended the same church. One student stated his belief that Jesus died on the cross for our sins. The lunchroom monitor stopped the conversation immediately, fearing that their talking about Jesus would offend someone else.
Can people exercise their faith in a public school? Yes, teachers just cannot provide instruction on religion in the public school setting. Can you have a morning prayer and devotional time if it is an assembled group? Yes, because we have both the right to freedom of religion and to assembly. Can you take a minute and pray in your alone time? Absolutely. Can you wear a cross around your neck? Yes, this little girl wasn't forcing anyone else to wear it. Can you draw a picture of Jesus on the cross? Yes, this little boy wasn't making others do it. Can you have conversations about Jesus? Yes, because we have both the right to freedom of religion and to free speech. These two boys weren't trying to force others into the conversation.
Always look for ways to help others. Pray for others during your alone time or in an assembled group. Finally, do not be afraid to share your faith. You have the right to freedom of religion, just like those with whom you may need to share yours.
About "Shine Your Light" by Courtney Lee Simpson
What if you reached other children you haven't met sharing a simple phrase your mother taught you? What if everyone listened and shared those words? Wouldn't the world be a better place? In Shine Your Light, Shaun has moved to a new school and is afraid to walk inside for the first time. He's afraid he won't make any friends, but his mother helps him overcome his fear by reminding him of a simple phrase.
Video Link: https://www.youtube.com/embed/SIN7fZf_wv0
In his heart, he knows to share this phrase with others and knows it can help others the same way it helped him. Did this simple phrase touch others? Did it change lives?
Special phrase his mother taught him
Listened and shared
Helped others the same way it helped him
Touched others
Changed lives
Get your copy of this book on:
Kharis Website: https://kharispublishing.com/kp/product/shine-your-light/
Amazon: https://www.amazon.com/dp/1637462204/
Barnes & Noble: https://www.barnesandnoble.com/w/1143695133
Books A Million: https://www.booksamillion.com/product/A17757288774
Goodreads: https://www.goodreads.com/book/show/179958828
About Kharis Publishing
This Publisher is Accepting Queries! Kharis Publishing, an imprint of Kharis Media LLC and a leading inspirational General Trade Book publisher is currently unsolicited queries for nonfiction (self-help, memoirs, business, Christian, health and wellness) from qualified leaders, professionals, pastors, and ministers) for a limited time. "Write in a book what you see…" There are no guarantees, but it is worth a shot: https://kharispublishing.com/kp/query
Media Contact
Company Name: Kharis Media LLC
Contact Person: Rufus Philip
Email: Send Email
Phone: +1 630-909-3405
City: Aurora, Chicago
State: IL
Country: United States
Website: https://kharispublishing.com/kp/product/shine-your-light/