The Advantage Of Using The Industrial Touch Display When People Produce Some Equipments
The touch display used in industrial equipment is called industrial touch display. The touch display of industrial equipment is mostly used in harsh environments. In this harsh environment, ordinary liquid crystal displays cannot achieve normal operation.
There are classifications of industrial displays: installation methods include embedded, wall-mounted, open frame, etc.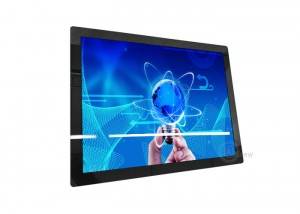 Axnew display insists on using the industrial level components on their products. At present, a series of industrial displays ranging from 6.5 inches to 55 inches are produced by manufacturers. Good visibility is a characteristic of industrial displays. Displays in industrial applications may need to support clear and excellent visual effects from multiple angles in a strong light, outdoor environment. Most industrial environments are an environment surrounded by strong light, which poses a challenge to the visibility of the display.
The standard brightness of the display is around 200cd/㎡. Some LCD manufacturers try to expand the range to more than 300cd/㎡. But these displays require more energy and this is not the best solution. Furthermore, these brightness levels are not enough to function in a very bright environment.
Industrial displays also require a long product life cycle. When the manufacturer no longer produce a certain model, the new display should be backward compatible to conform to the existing airtight container without requiring the entire system to be redesigned.
The metal shell of the industrial display is sturdy to shield and anti-interference, the product structure is compact, the shock absorption performance is good, it can effectively prevent the external magnetoelectric anti-interference, high temperature resistance, anti-radiation and other working conditions that ordinary liquid crystal displays cannot reach this standard.
Media Contact
Company Name: Axnew Display Technology Co.,Ltd
Contact Person: Media Relations
Email: Send Email
Phone: 86-755-25566197
Country: China
Website: https://www.axnewdisplay.com/