New York Estate Planning Attorney Yana Feldman Sheds Light on the Differences Between an Executor and an Administrator in New York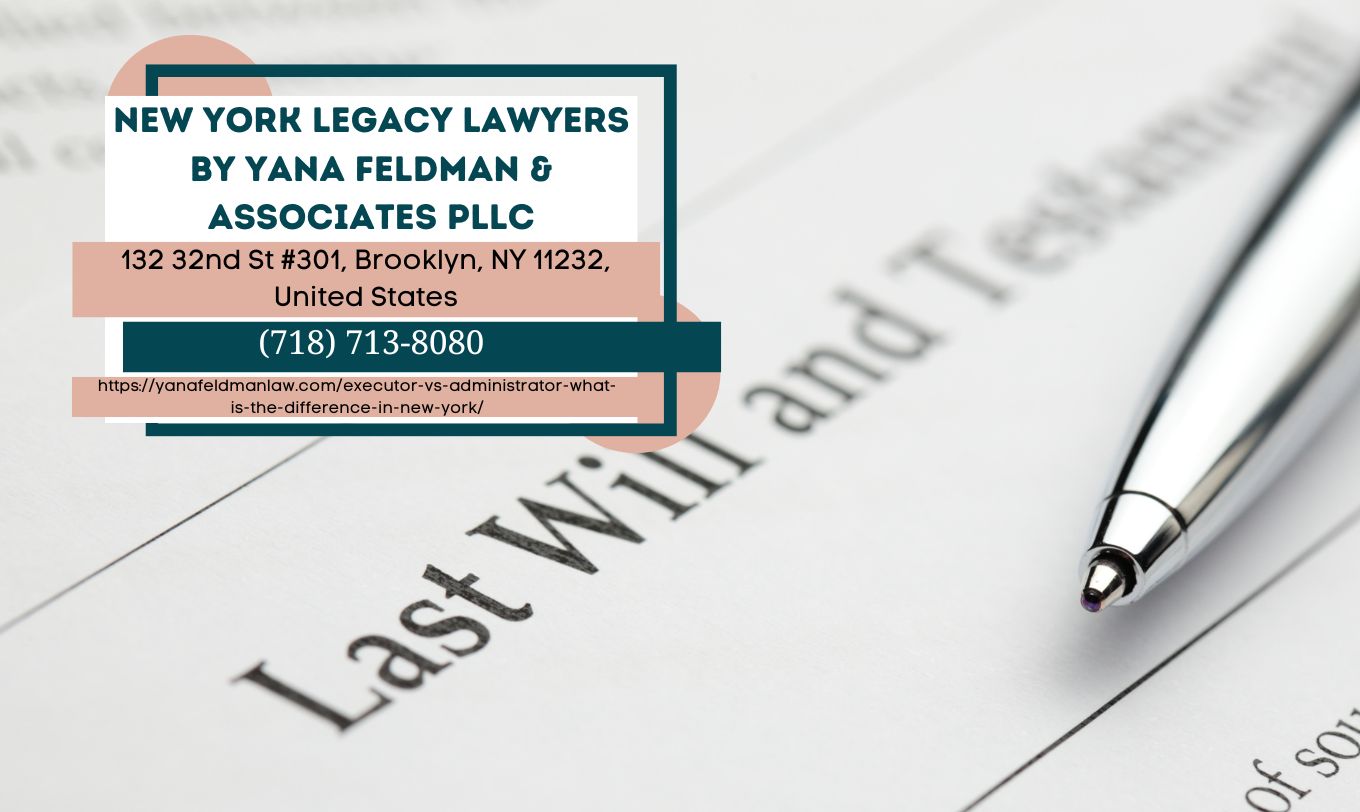 New York estate planning attorney Yana Feldman (https://yanafeldmanlaw.com/executor-vs-administrator-what-is-the-difference-in-new-york/) of New York Legacy Lawyers recently published a comprehensive article titled "Executor Vs Administrator: What Is The Difference In New York?". The article delves into the key differences and responsibilities of executors and administrators, focusing specifically on the context of New York estate planning laws.
"In New York, when someone passes away and leaves behind an estate, managing their assets, paying off creditors, and distributing what's left to the beneficiaries is up to an executor or an administrator," the New York estate planning attorney explains.
The New York estate planning attorney offers an in-depth comparison of the roles of executors and administrators, explaining that while their duties might seem similar, the manner in which they are appointed and their responsibilities can differ greatly. Feldman explains, "An executor is a person named in a decedent's last will and testament, while an administrator is appointed by the court when a person dies without a will or if no executor is declared."
Furthermore, Feldman provides a detailed view of the process to appoint an executor or an administrator. It involves preparing a petition that outlines information about the decedent, listing anyone who would be affected by the proceeding, and filing additional documents and affidavits with the Surrogate's Court. She also explains that executors and administrators can be compensated for their work based on a structured commission, which is dependent on the size of the estate.
"Being an executor or administrator is a hefty responsibility that is subject to scrutiny from the Surrogate's Court. It is essential for individuals to understand the weight of this duty before taking it on," Feldman points out.
The article also highlights who is eligible to be appointed as an executor or an administrator, with New York law setting out specific requirements. Feldman then delves into the checks and balances that are in place to prevent mismanagement, noting that the Surrogate's Court can restrict the authority of administrators and executors in certain circumstances.
To better understand these roles and responsibilities, Feldman encourages those who have been nominated as executors or are planning to apply as administrators to get the help of an experienced estate planning attorney.
Yana Feldman's article serves as a valuable resource for individuals grappling with the responsibilities of being an executor or administrator. It sheds light on the challenging aspects of estate planning and provides guidance on how to navigate this complex process. Individuals can read the full article on the New York Legacy Lawyers' website.
About New York Legacy Lawyers:
New York Legacy Lawyers is a well-regarded law firm focusing on estate planning and probate law. With a team of dedicated attorneys led by Yana Feldman, the firm is committed to providing quality legal assistance to individuals navigating the probate process, representing and defending their rights from potential legal challenges. They are dedicated to facilitating the probate process as smoothly as possible, making them a trusted ally in managing the often daunting task of estate administration.
Embeds:
Youtube Video: https://www.youtube.com/watch?v=LIKHj3i5vJQ
GMB: https://www.google.com/maps?cid=16408561942605909937
Email and website
Email: [email protected]
Website: https://yanafeldmanlaw.com/
Media Contact
Company Name: New York Legacy Lawyers by Yana Feldman & Associates PLLC
Contact Person: Yana Feldman
Email: Send Email
Phone: (718) 713-8080
Address:132 32nd St, Brooklyn, NY 11232
City: Brooklyn
State: New York
Country: United States
Website: https://yanafeldmanlaw.com/