Dr. Melinda Santiago to be Honored at Harvest Christian University's Hall of Fame Commencement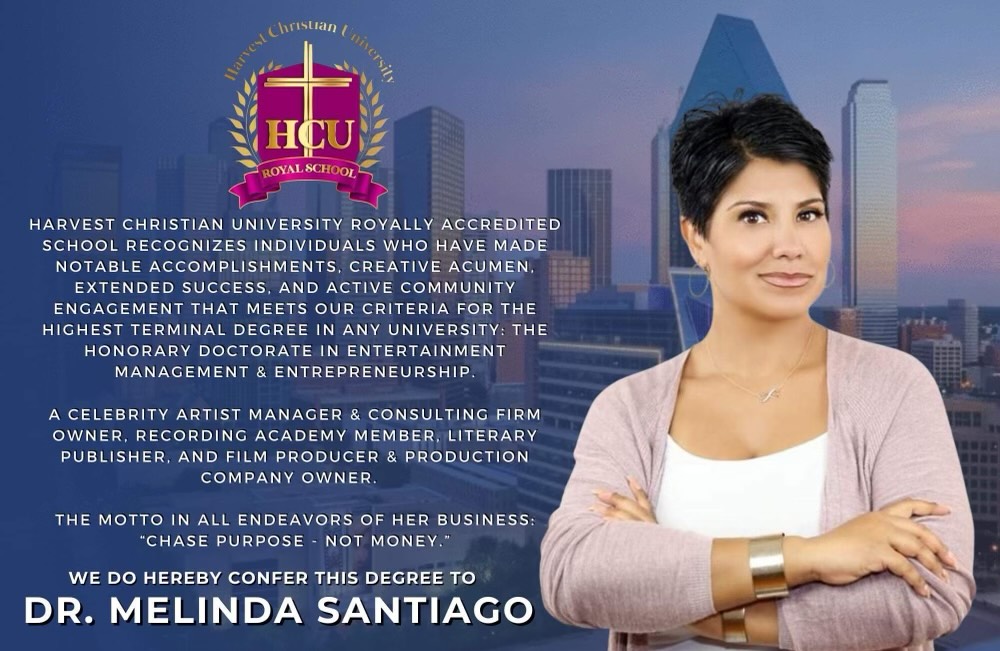 Dr. Melinda Santiago, a pioneering force in the entertainment industry, is set to join the prestigious Hall of Fame Class at Harvest Christian University's Honorary Doctorate and Master Class Commencement. This remarkable event is scheduled for November 18, 2023, at 10:00 AM, hosted at the Saint Louis Art Museum.
Dr. Santiago will stand alongside industry luminaries such as Cedric The Entertainer, Johnny Gill, Latocha Bivens, Jackie Joyner-Reese, Ruben Studdard, Keth Perrin Jr., Ralph Tresvant, Damon Dash, Willie Moore Jr., JJ Hairston, Carl Payne II, Melba Moore, Glenn Jones, Aulsondro "Emcee N.I.C.E., Anthony Thurston, Tony Terry, Dave Brown, Glen Jones, Christopher Williams, Jackie Joyner-Kersee, BernNadette Stanis, the legendary Dr. Bobby Jones, and posthumously, Muhammad Ali Sr., Redd Foxx, among other prominent figures.
Event Details:
Honorary Doctorate and Master Class Commencement
Date: November 18, 2023, at 10:00 AM
Location: Saint Louis Art Museum
1 Fine Arts Dr., St. Louis, MO 63110
About Dr. Melinda Santiago:
Dr. Melinda Santiago, a serial entrepreneur in the entertainment industry with over 30 years of experience, has played a vital role in managing and branding numerous celebrity clients. As the CEO of The Santiago Firm LLC and Santi Media Group, LLC, she oversees various divisions, including Santi Books, Santi Music, and Santi Films.
Creative:
A creative storyteller, Dr. Santiago is a published author, with her first fiction novel titled "Til Death Do Us Un-Part" published under Santi Books. She is currently working on several business books and has ventured into screenwriting, adapting her book into a feature-length film.
Community Giveback / Philanthropy:
Dr. Santiago is committed to community development and philanthropy, serving on the board and volunteering for non-profit organizations like "Believe In Our Vizion" and "The Bobby V Foundation." She has also initiated her own non-profit foundation called "Pick Up To Get Up Foundation," promoting literacy, education and entrepreneurship
About Harvest Christian University:
Harvest Christian University, located in Dallas, Texas, eagerly anticipates its upcoming fall master class in doctorate degree programs. For further information, follow them on Instagram at @myhcu.education or visit their website at myuhc.education.
About Upscale PR:
UPSCALE public relations, a live communications agency, is dedicated to the highest standards of cause marketing, entertainment integration, and public impact. Serving C-Suite executives, entrepreneurs, entertainment and film industry professionals, as well as nonprofits and universities. Follow them on social media at @upscale_pr or visit upscalepr.com for more information.
Media Contact
Company Name: UPSCALE PR
Contact Person: Paulina Sanchez
Email: Send Email
Country: United States
Website: https://upscalepr.com/