New book "Becoming Invaluable" by Steven J. Bowen and Terry Lyles, Ph.D. is released, an empowering guide to attracting and maximizing opportunities for individuals and organizations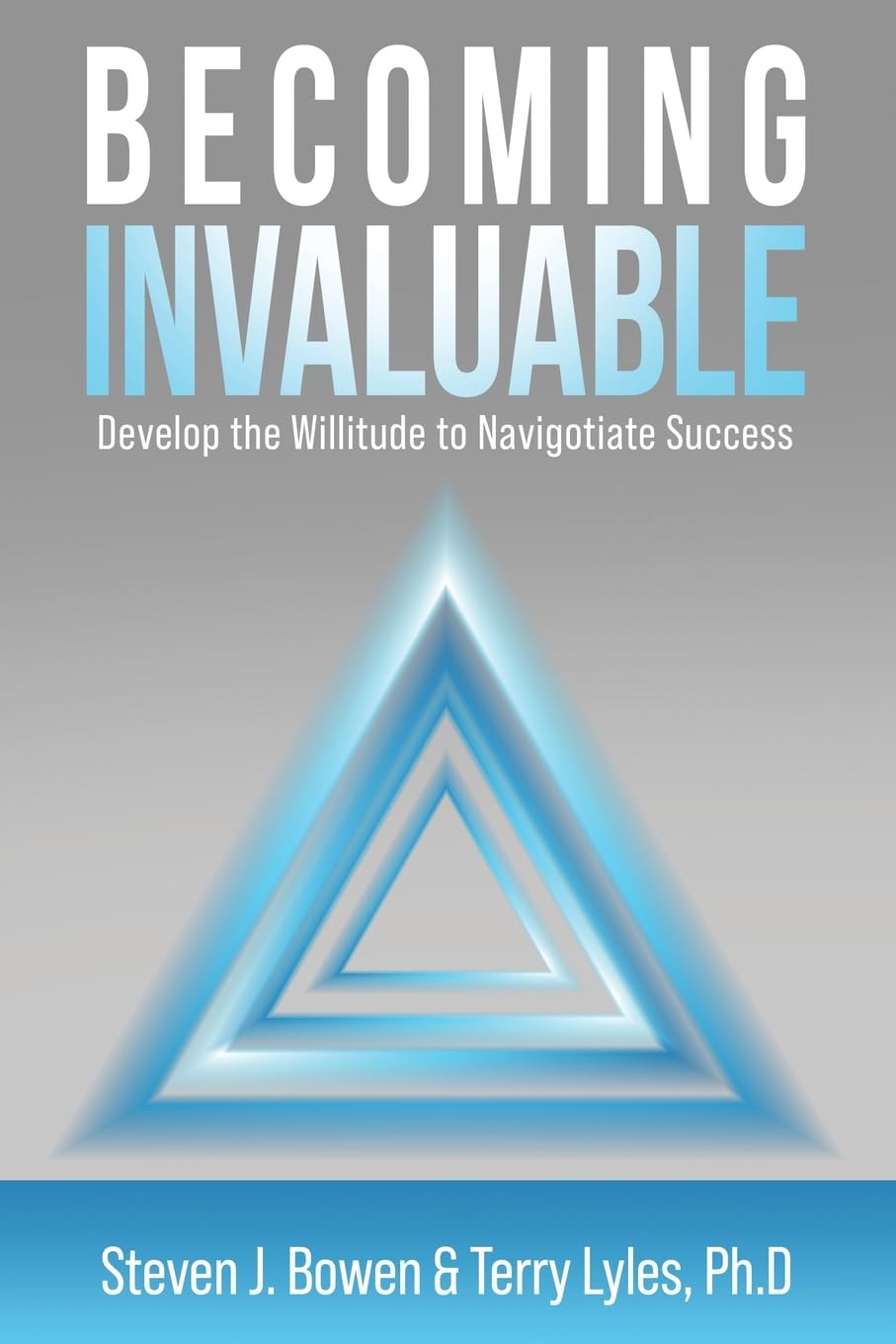 "Becoming Invaluable: Develop the Willitude to Navigotiate Success" by Steven J. Bowen and Terry Lyles, Ph.D. has been released worldwide. This 219-page, must-read book contains insights, wisdom, interviews, and practical applications for developing undeniable value, regardless of profession, type of organization, or background.
The insightful, inspiring message begins with the concept of "willitude" – emphasizing the importance of self-motivation, hard work, and flexibility. This cornerstone ideology is derived from combining the words "willpower" and "fortitude," highlighting not only the importance of discipline, but of resilience as well. The second key term, "navigotiate," combines "navigate" and "negotiate" to remind readers that moving through the real world involves navigating interpersonal relationships, negotiating situations, and the ability to adapt to change.
With these two key terms in tow, the authors provide actionable strategies, success stories, and guiding principles that create a path toward becoming an invaluable part of a business, team, or thriving as an individual. With a multifaceted approach to personal and professional development, the book challenges readers to embrace physical and mental expansion to find their highest calling and exist as the best versions of themselves.
From corporate expertise to modern psychological research, personal anecdotes to universal aspects of physical health, the book tackles its core ideas from a variety of angles, further reinforcing its point that achieving greatness is not a simple, straight line, but rather a combination of purpose, values, and vision factors that work together in harmony.
The authors point to five key attributes – knowledge, skills, attitude, health, and strength – as the most important areas of development and show the transformative potential that's possible when they are all aligned with a purpose, values, vision, and mission. With combined backgrounds in psychology, education, business leadership, public speaking, and beyond, Bowen and Lyles have assembled a manual for making the most of any life path through awareness and diligence.
Packed with information, yet easily understood with plain language and helpful summaries, this excellent self-help/personal development book provides a holistic, detailed method of maximizing potential for anyone willing to invest in themselves.
Becoming Invaluable (ISBN: 9781961532809) can be purchased through retailers worldwide, including Barnes and Noble and Amazon. The paperback retails for $17.99, and the ebook retails for $9.99. Review copies and interviews are available upon request. Interested parties can reach out to David Schutzman, Public Relations Director, either via email at [email protected] or by phone at (203) 550-8551.
From the back cover:
The stories you find laced throughout this book are from many different individuals and perspectives. These stories of our interviewees are from their real-life experiences including both failures and successes. Our desire for this book is to inspire, motivate, educate, and support anyone in whatever your walk of life. Regardless of your vocation, career, or path in life, you can enhance your outcomes and the experiences along the way through the application of the methods you will find throughout this book.
"In leadership, business, sales, music, sports, and especially relationships, the goal is to inspire people to choose you, not just somebody who does what you do. 'Becoming Invaluable" is a master class on why and how to increase your value to the marketplace and make yourself irreplaceable by exemplifying unconditional love, empathy, contagious passion, exhilarating creativity, unshakable loyalty, and a commitment to service before self in every situation. Because of this book, I now know how to attract people and opportunities based on who I am, so people leave me saying, 'I like me best when I'm with you, I want to see you again!'"
– DAN CLARK, Hall of Fame Speaker, Author of The Art of Significance, danclark.com
"These empowering collections of stories in 'Becoming Invaluable' are a beacon of hope that will ignite your passion, ambition, and belief in your own potential to shape your limitless destiny!"
– DR. GINGER
"'Becoming Invaluable' can help everyone set themselves up for greater success in life and chosen vocation. Building the knowledge and skills while taking care of yourself physically and mentally is the foundation of developing real emotional intelligence and leadership. If you accept 'failure is not an option' for yourself, 'Becoming Invaluable' is a must read."
– JAMES R. VOSS, CEO Tenneco
About the authors:
Steven J Bowen holds a BA in Chemistry with a minor in Economics & Business from Westminster College, Fulton, MO. He founded 2004, was CEO & Chairman, Maine Pointe LLC, through a successful divestiture in 2019 after the company was recognized as a top supply chain consulting firm by Forbes and Consulting US.
Dr. Terry Lyles holds a PhD. In psychology and is recognized as a national/international educator, author and speaker to universities, schools, Fortune 500 Companies, world-class athletes, and public audiences. He teaches groups of all ages how to Navigate Life Storms and enhance performance through integrating psychological and physiological tools, metrics, and practices.
About MindStir Media:
MindStir Media LLC is an award-winning book publisher. To learn more about publishing a book with MindStir Media, visit http://mindstirmedia.com or call 800-767-0531.
Media Contact
Company Name: MindStir Media LLC
Contact Person: Jen McNabney
Email: Send Email
Phone: 800-767-0531
Address:1 New Hampshire Ave Suite 125
City: Portsmouth
State: NH
Country: United States
Website: https://mindstirmedia.com/