New book "Surviving Hospice" by Maryclaire Torinus is released, an informative examination of the hospice industry that combines personal experience and empirical data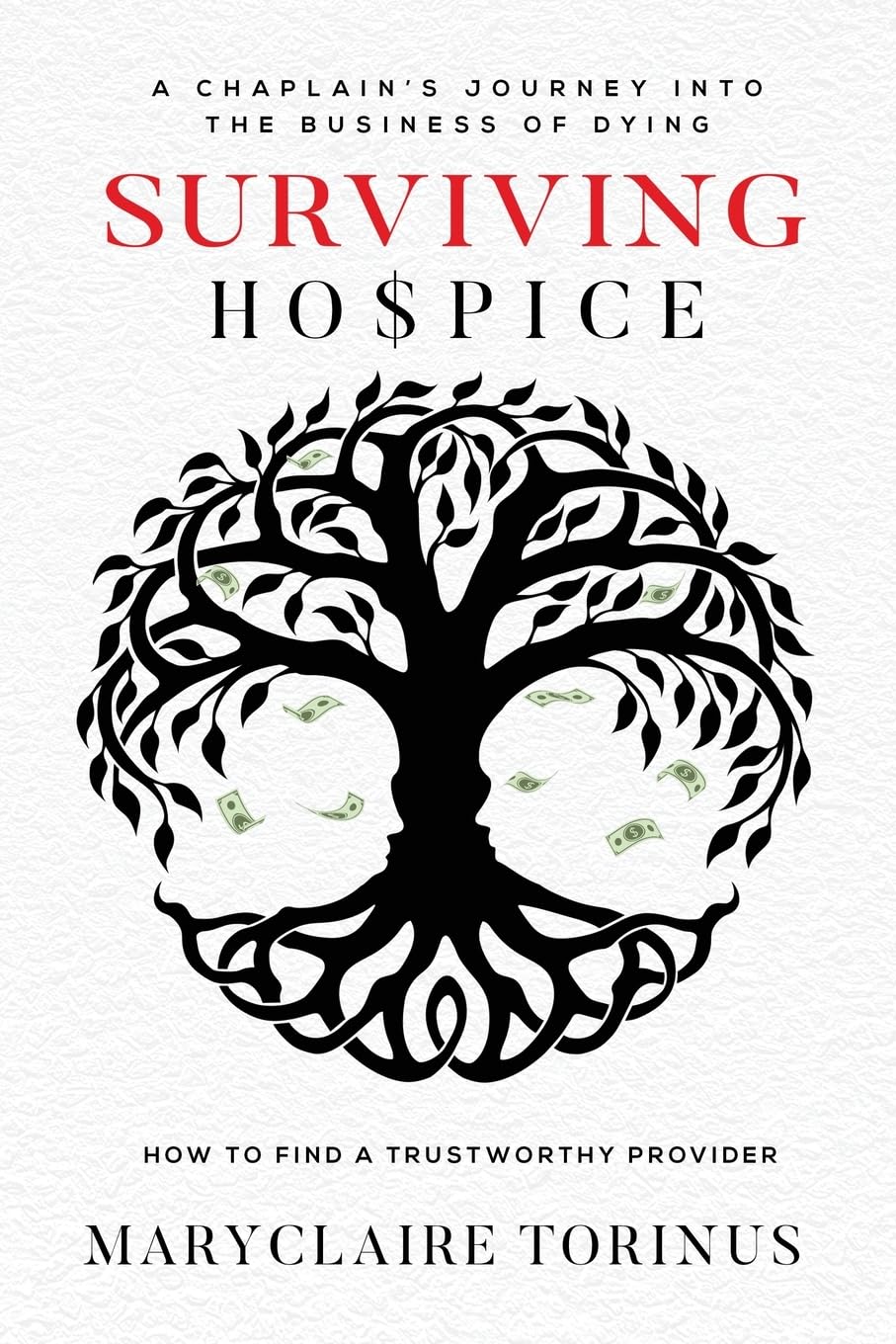 "Surviving Hospice: A Chaplain's Journey Into The Business Of Dying" by Maryclaire Torinus has been released worldwide. This 265-page work of nonfiction provides a comprehensive look into the world of hospice care, the benefits it provides, and the issues preventing the industry from operating at its best. Drawn from firsthand experience working as a hospice chaplain and as a hospice consumer advocate, the book is partly a memoir that narrates the end-of-life stories of her patients and the eye-opening lessons she learned when their pastoral and medical care was compromised by greed.
This unique, nuanced approach to understanding the hospice industry expertly navigates criticisms of big money, the spirituality inherent in working around death, the responsibilities and stress of being a chaplain (working in a for-profit company), the dignity and humanity provided by patient-focused hospice professionals, and how to determine whether a hospice care provider is truly trustworthy, or simply motivated by huge profits.
Beyond the author's personal stories, the book delves into the complex world of hospice care to arm readers with the information they need to make informed decisions. Torinus shows that not all hospice care is the same, exposing the problems that arise when for-profit businesses are in control of the dying process. She deftly places a spotlight on the hijacking of hospice care by private equity firms and corporations, as well as the subsequent harm to patients and staff through the reduction of resources and the introduction of financially motivated policies. Torinus examines this nationwide issue to highlight good providers (both nonprofit and for-profit), uplift the hospice image, and sound an alarm to rid the hospice space of professional investors.
An excellent read for people working in the industry, seeking hospice care, or interested in working as a chaplain, the book covers significant ground across a range of interrelated, dynamic topics. Maryclaire Torinus weaves together personal experience, professional expertise, and industry-spanning research to create a clear picture of the current state of hospice, and uses each of these elements to provide clear guidance for finding the best care.
Surviving Hospice (ISBN: 9781960142559) can be purchased through retailers worldwide, including Barnes and Noble and Amazon. The paperback retails for $18.99, and the ebook retails for $5.00. Review copies and interviews are available upon request.
From the back cover:
"Powerful, beautifully written, and eye-opening, this book spotlights the inner workings of a for-profit hospice provider after it was purchased by professional investors and the harmful effects on patients, families, and hospice staff. Former chaplain Maryclaire Torinus shares poignant accounts of hospice at its best and worst and the hard-hitting truths she learned on her journey. A must-read for family members exploring hospice care."
– Stacy Juba, author, editor, and award-winning health journalist
"Maryclaire Torinus speaks with authority, providing this essential handbook for choosing a hospice care team and why that selection really matters."
– Laura Kukowski, CEO of Badger Hospice, LLC
"Maryclaire Torinus invites you to join her at the bedsides of dying patients. Her enlightenment becomes your learning as each chapter unfolds. Her admiration for hospice helps her see its darker side. Her list of interview questions for those seeking good, community-oriented hospice is a valuable tool."
– Larry Patten, retired United Methodist minister, hospice chaplain, author of A Companion for the Hospice Journey
About the author:
Author Maryclaire Torinus has an undergraduate degree in vocal music education and performance, a graduate degree in religious studies, and has completed postgraduate work in clinical pastoral education. She has worked with the elderly and dying patients for eight years and as a peer-support specialist and pastoral counselor at the Milwaukee County Behavioral Health Complex. She currently works as a hospice consumer advocate, writer, and speaker.
She studied writing in the International Iowa's Writing Program, The Clearing, Red Oak Writing Workshops, Stacy Juba Online Editing Course, St. Norbert College, and Cardinal Stritch University.
About Manhattan Book Group:
Manhattan Book Group ("MBG"), located on Broadway in New York City, is a registeredtrade name of Mindstir Media LLC. MBG is widely known as a premier hybrid bookpublisher. We have combined the best of traditional publishing with the best of self-publishing to provide authors with the "best of both worlds" in a sense. To learn moreabout MBG, visit https://www.manhattanbookgroup.com/
Media Contact
Company Name: Manhattan Book Group
Contact Person: Jen McNabney
Email: Send Email
Phone: 212-634-7677
Address:447 Broadway 2nd Floor #354
City: New York
State: New York
Country: United States
Website: https://www.manhattanbookgroup.com/