O/D Vision, Inc. Has Unveiled Its Anticipated Launch Campaign for Tricorder.Zero™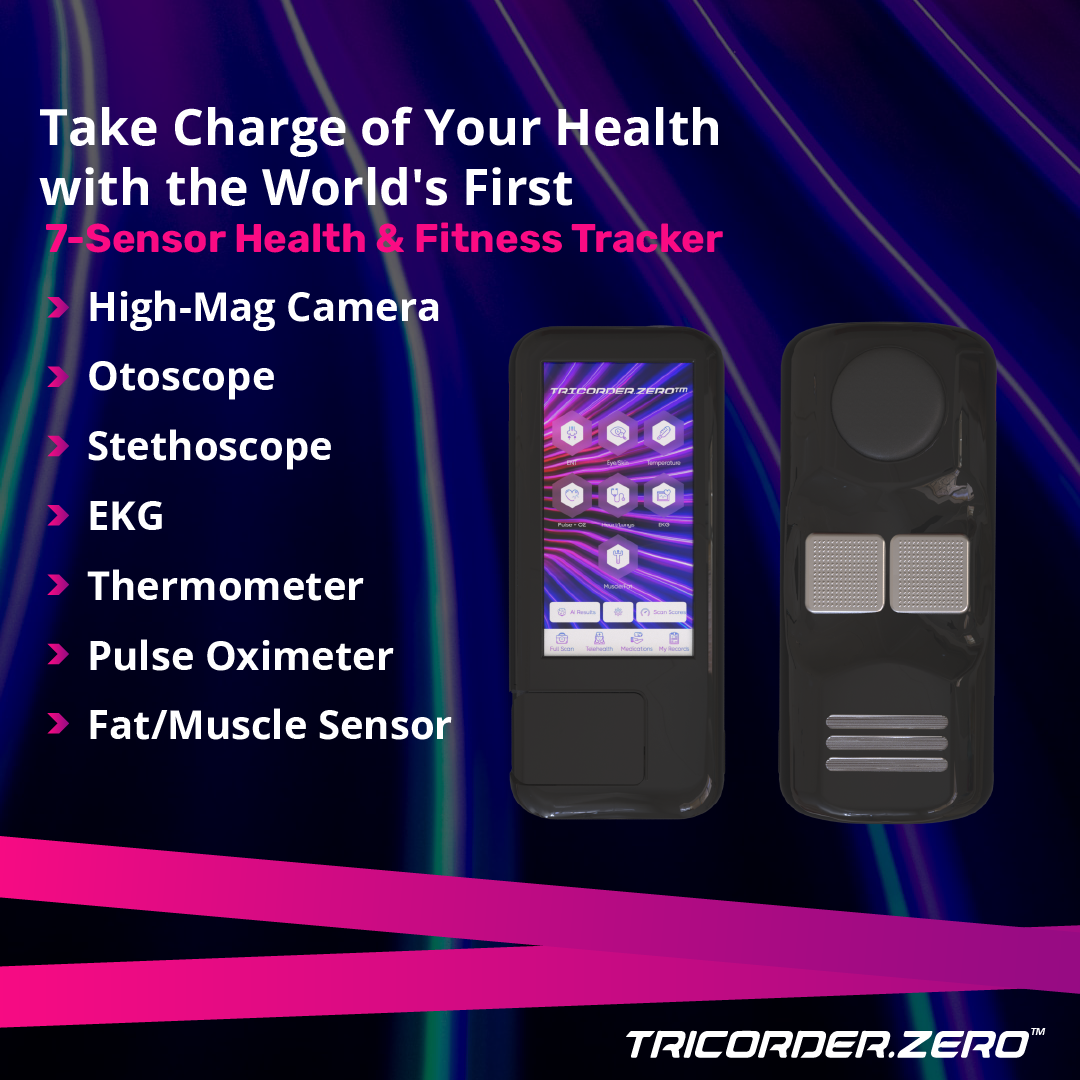 Bringing about a groundbreaking impact on the healthcare industry
Sanibel, FL, USA – September 19, 2023 – O/D Vision, Inc. is excited to announce its prelaunch campaign for Tricorder.Zero™, an innovative new health and fitness tracker equipped with seven unique sensors. This groundbreaking device aims to transform health monitoring and telehealth services by allowing users to take control of their wellbeing and make more conscious, better-informed decisions about their health.
The idea behind Tricorder.Zero™ was conceived by Marcus C.B. Soori, a healthcare professional who currently serves as Founder and CEO of O/D Vision, Inc. Tricorder.Zero™ is the culmination of Soori's journey that began during his time in medical school from 2011 to 2015. During years refining the idea, he painstakingly waited for technological progress to align with his vision of creating an innovative and affordable handheld health and fitness tracker, and for the past two years has engaged in research & development of the device.
Today, Tricorder.Zero™ stands poised to redefine health monitoring and wellbeing by tackling the pressing issue of access to affordable healthcare in the United States. Soori proudly asserts "Tricorder.Zero™ goes beyond being a device — it's a lifeline for those seeking affordable healthcare."
Key features of Tricorder.Zero™ include:
Cutting-Edge Technology, with Seven Sensors: Tricorder.Zero™ incorporates seven cutting-edge sensors that monitor health and fitness metrics such as heart rate, oxygen saturation, body temperature, heart/lung/abdominal sounds, heart electrical pattern, body fat and muscle tone, and more.
Seamless Integration with Telehealth: With Tricorder.Zero™, users can easily share their objective sensor data from the device with primary healthcare and telehealth providers. This enables faster and more accurate insights, enabling a wider range of prescriptions, tests, and specialist referrals than would otherwise be possible without such data.
No Need for Subscriptions: Unlike some competitors, Tricorder.Zero™ stands out by eliminating the requirement for telehealth subscriptions to access device features, making it far more accessible to individuals from all walks of life — no matter their healthcare needs.
User-Friendly Interface: Tricorder.Zero™ boasts an integrated touchscreen that enables effortless navigation and easy access to data whenever and wherever users need it.
Innovation at its Core: Tricorder.Zero™ achieved patent pending status in 2022 for 12+ concepts and has already filed multiple nonprovisional applications, ensuring its unmatched capabilities in the digital healthcare market.
O/D Vision Inc. has launched its Prelaunch.com campaign for Tricorder.Zero™ to invite supporters and health-conscious individuals to join in their accessible healthcare revolution. Early adopters can be the first to experience the future of health & fitness tracking by visiting the prelaunch page.
Soori and the team at O/D Vision, Inc. warmly invite everyone to embark on this journey toward a more accessible future in healthcare.
About O/D Vision, Inc.:
O/D Vision, Inc. is a technology company committed to developing healthcare solutions that empower individuals to take control of their well-being. Founded by Marcus C.B. Soori, the mission of O/D Vision, Inc. is to make easily accessible healthcare a reality for all individuals.
For any media inquiries, interviews, or additional information, please feel free to reach out to Marcus C.B. Soori at [email protected].
Media Contact
Company Name: OtterPR
Contact Person: Chan Desai
Email: Send Email
Country: United States
Website: https://www.otterpr.com/