ToVerse: Intelligent Automatic Vertical Vinyl Record Player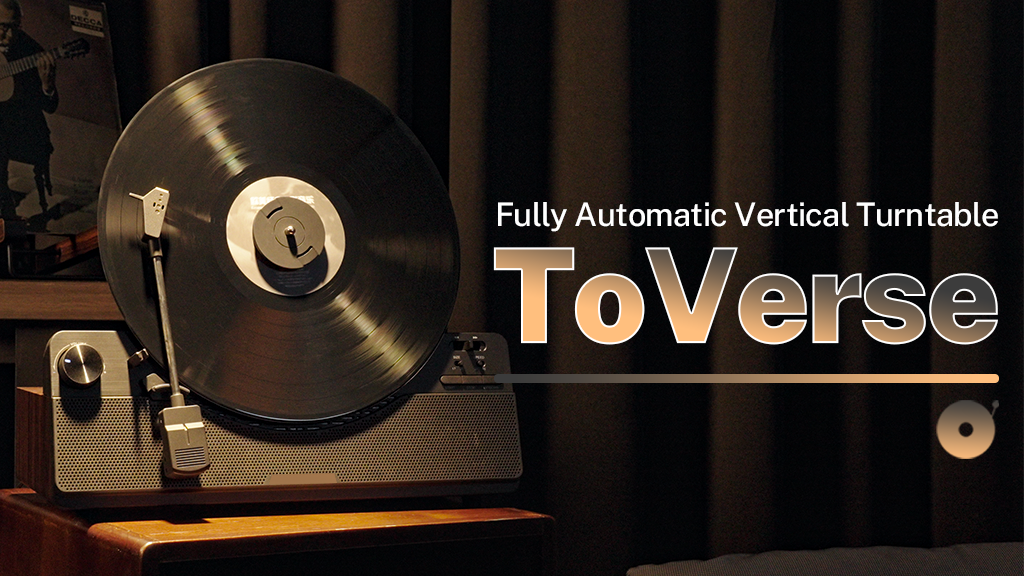 33-1/3 & 45 RPM Fully Automatic Vinyl Record Player with Anti-Resonance Speaker Enclosure, Belt Drive Platter, Bluetooth Input & Output
ToVerse proudly introduces the global debut of the TT52 Vinyl Record Player, a vertical turntable that flawlessly blends the allure of classic with modernity, offering a chance to rediscover the mesmerizing charm of vinyl records. The TT52 ingeniously combines the timeless melodies of vinyl with cutting-edge technology. With both 33 1/3 and 45 RPM playback speeds, the TT52 seamlessly adapts to various vinyl sizes. Additionally, the 7″ / 12″ switch enables effortless transitions between different record sizes, allowing you to revel in the diverse allure of music.
The TT52 Vinyl Record Player goes beyond traditional vinyl listening, offering a diverse auditory experience with Bluetooth input and output, AUX 3.5mm, and RCA connectivity. Effortlessly connect your Bluetooth devices for wireless music enjoyment or link the turntable to external speaker systems through AUX or RCA, creating an immersive musical journey.
Embracing a patented full-automatic vertical tonearm design, the TT52 ensures straightforward operation, effectively reducing vibrations and needle skips during playback. This innovative design safeguards your precious records, allowing you to savor the exquisite beauty of music without any disruptions. Moreover, the TT52 features an electrically controlled tonearm, eliminating the need for manual adjustments, simplifying the music playback process.
The TT52 is equipped with an anti-resonance structure that eradicates sound vibrations that may interfere with the record and needle. Even at high volume outputs, the audio quality remains stable, delivering an authentic musical performance. The TT52 Vinyl Record Player's exceptional audio quality transports you to a wondrous world of music, enveloping you in the pure beauty of sound.
ToVerse TT52 Vinyl Record Player seamlessly merges the grace of classic with the ingenuity of modernity, offering a diverse listening experience. Its unique design and outstanding audio quality rekindle the mesmerizing allure of vinyl records, allowing you to experience the enchantment of music. Whether you are an audiophile or an artistic soul with a passion for collecting vinyl records, the TT52 Vinyl Record Player is a music companion worth having. Embrace your love for music, choose the ToVerse TT52, and embark on a delightful musical journey together.
Media Contact
Company Name: XSHOW innovation
Contact Person: WANG FENG
Email: Send Email
Country: HongKong
Website: https://www.kickstarter.com/projects/1248109823/2099337889?ref=bbu43h&token=a27adaea