ELEHEAR Launches ELEHEAR Alpha: A Revolutionary AI-Powered Hearing Aids with VoClear Technology and Remarkable Remote Fitting Services
ELEHEAR Alpha, along with its VoClear Technology and remote fitting services, makes hearing care more accessible for those in remote areas or with limited mobility.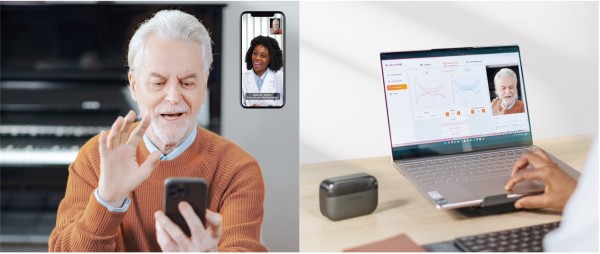 ELEHEAR, a leading hearing aids company, has launched the Alpha AI, its latest cutting-edge hearing aid device. The device is AI-powered and incorporates VoClear technology, which significantly improves the listening experience of individuals with hearing loss.VoClear technology is offering unparalleled natural sound quality and seamless Bluetooth connectivity with minimal feedback.
The spokesperson of ELEHEAR explains, "The introduction of ELEHEAR Alpha to the market is a source of great excitement for us. In recent years, the hearing aids industry has experienced notable technological advancements, and one of the most noteworthy developments has been the integration of remote fitting functions.
Majority of the time, a first-time visit to an audiologist can last between 60-90 minutes, this process is often time-consuming, and users would have to wait several days or weeks before they could get an appointment. This means that users would spend a significant amount of time visiting an audiologist for hearing aid adjustments or fine-tuning."
ELEHEAR's remote fitting service has the potential to reduce the time and cost of audiologist services for hearing aids. With remote fitting functions, users can access professional support and make adjustments to their devices in real time, without having to leave their homes or visit a hearing care professional in person. This is particularly important for those in remote areas or with limited mobility who may have difficulty accessing hearing care services.
At the conclusion of the news briefing, the spokesperson conveyed, "ELEHEAR Alpha is a game-changer, and we look forward to seeing the positive impact it will have on the industry and the lives of those who use it. With continued advancements in technology, we can expect to see further improvements in the future, benefiting millions of people worldwide who suffer from hearing loss."
To learn more, visit https://elehear.com.
About ELEHEAR:
ELEHEAR is a hearing aid company that prioritizes accessibility and affordability to improve the lives of individuals with hearing loss. With a focus on using state-of-the-art technology and tailored solutions, ELEHEAR is a leader in providing customers with an elevated listening experience.
Media Contact
Company Name: ELEHEAR
Contact Person: Media Relations
Email: Send Email
City: Shenzhen
State: Guangdong
Country: China
Website: elehear.com/