Veronica Yu crowned Mrs. Universe Philippines 2022
THE FIREFIGHTING PHILANTHROPIST IS NOW A QUEEN.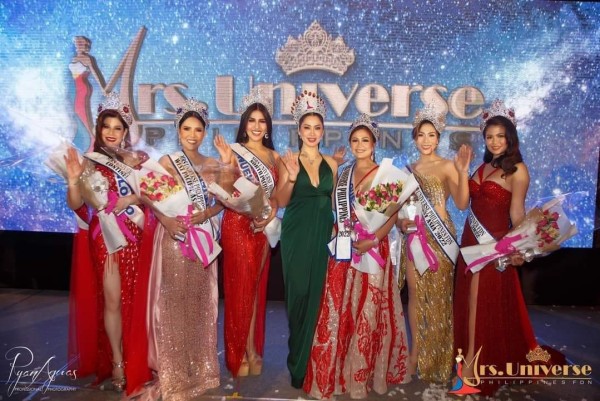 Mrs. Veronica Yu was crowned Mrs. Universe Philippines 2022 during the pageant's finals night held on October 2, 2022 at Okada Manila.
The 40-year-old beauty queen from Quezon City is a mother of an equally beautiful teenager. She bested other contestants from all over the Philippines to take home the highly coveted title.
Upon winning, Mrs. Yu expressed her gratitude and said that she will do her best to represent the Philippines in the upcoming Mrs. Universe international pageant to be held in the Philippines next year.
She also called on all married women to embrace their beauty and not be afraid to show the world what they are made of. Beauty pageants are for those who truly, genuinely, are confident of themselves, their advocacies and purpose in life.
Mrs. Yu is no stranger to the world of beauty and fashion, as she was previously honored as one of the Philippines' Best Dressed in 2017 and 2022, and Philippines' Most Exceptional Men and Women Awardee in 2022. She is also a well-known Rotarian, a Philanthropist, and a Firefighter!
With her Mrs. Universe Philippines crown, she will now have the opportunity to represent the Philippines in a global event and showcase her beauty, grace, and intelligence to the world.
A TRUE ROTARIAN WITH A HEART TO GIVE, TO LEAD.
Veronica Yu began her career in firefighting in 2003. She has completed training on Basic Life Support, Fire Responder Course, Fire and Rescue, Firefighting Proficiency, Emergency Medical Technician, Urban Search and Rescue, High Angle Rescue, Basic and Intermediate Incident Command System, All-Hazard Incident Command System, Hazardous Material Operational Training, Water Search and Rescue, and High-Density Population Incident Management Procedures among others. She obtained her Master's Degree in Religious Education at Piedmont College of Theology in 2016 and her Doctorate in Humanities at Brethren School of Theology in 2018.
She went on to serve as a member of the Association of Volunteer Fire Chiefs and Fire Fighters of the Philippines, then as a radio operator and a volunteer firefighter; A fire chief of the Tactical Emergency Assistance and Monitoring Network's Fire and Rescue Department; Secretary-General of Civil Defense Action Group, also known as CDAG; Board of Director of the Philippine Rotary in Emergency Preparedness and Response (PREPR) Foundation and a reservist from the Philippine Air Force.
Following her work in firefighting, she launched her own firm, known as Team Network Safety and Security TRading Co., which provides personal protective equipment for firefighting and rescue. She also serves on the boards of Mangotech Corporation, iCity Technologies Inc., and Miss University.
She has been named Philippine's Best Dressed in 2017 and 2022, Ambassador for Life in 2018, TORY Awardee in 2020-2021, and many others. Her most notable accolade was receiving the Most Outstanding President title in Rotary International District 3780 when she became the All-Star President in 2016.
Yu has dedicated herself to various philanthropic causes such as the Rotary Club of Cubao, which she joined in 2013. The club's projects include providing education and opportunities for underprivileged youth, sustainable community development, and relief operations during disasters. She became the All-Star President in 2016-2017, District New Generations Youth Exchange Chair in 2018-2019, District Youth Service Chair for three consecutive years 2018-2021, and Club Foundation Chair in 2020-2021.
As a firefighting veteran and successful businesswoman, Yu has dedicated herself to helping others and creating a better world for all. Over the course of her career, she has built and maintained relationships with some of the most influential people in business and government, ensuring that everyone can live safer lives. She is a huge asset to Rotary, and we can be assured that she would continue to dedicate herself as fiercely as ever.
As a Rotarian, Yu has been an immense asset to the club and its projects. She has helped countless young people receive the education and opportunities they need to improve their lives and has worked tirelessly to provide relief during disasters. Her dedication to the Rotary Club of Cubao and its projects is commendable, and she is surely deserving of all the awards and recognitions she has received.
With her lifetime spouse, Immediate Past District Governor, Johnny Gaw Yu, their efforts to organize initiatives and keep the stream of consciousness in assisting the underprivileged and other members of society will be their lifelong mission. Together, they were recognized as Endowment Fund Major Donor, End Polio Major Donor, Arch Klumph Level 5 Donor – Chair's Circle in 2020-2021, and Mario Nery of Rotary District Awardee,other recognitions.
Media Contact
Company Name: JGY Communications Group
Contact Person: Mylene/Gladys
Email: Send Email
Phone: 09172555291
Address:43 Lanzones St. Project 2
City: Quezon City
Country: Philippines
Website: https://www.facebook.com/iamveronicayu