LED Lighting Market To Raise Expressively With 10.5% CAGR Till 2030, Due To Stringent Government Regulations To Lower Adoption of Inefficient Lighting Technologies | Grand View Research, Inc.
According to new report available with Grand View Research, the global LED lighting industry is anticipated to witness enhanced demand owing to Increasing construction activities in developed and developing countries, during the forecast period.
LED Lighting Industry Overview
The global LED lighting market size was valued at USD 55.5 billion in 2021 and is anticipated to reach USD 132.96 billion by 2030, expanding at a CAGR of 10.5% over the forecast period.
Increasing construction activities in developed and developing countries, along with stringent government regulations to lower the adoption of inefficient lighting technologies, are the major factors expected to drive the market. LED lights offer high lumen power by consuming less power, better service life, and no flickering. Also, LED manufacturers are focused on integrating solutions such as Wi-Fi, occupancy sensor, and daylighting which is attracting consumers in turn responsible to increase product sales. These factors are contributing to the market growth.
Gather more insights about the market drivers, restrains and growth of the Global LED Lighting Market
LED lights tend to be a better solution compared to other lights such as halogen, CFL, and incandescent lights. LEDs operate at low energy input providing high illumines which is a major reason they are widely deployed in outdoor and indoor settings. LEDs provide manufacturers the design flexibility, along with the ability to withstand frequent switching. Rising awareness among consumers related to the benefits of LED lights, along with consumers' shift towards green lighting is expected to spur the demand for LED products.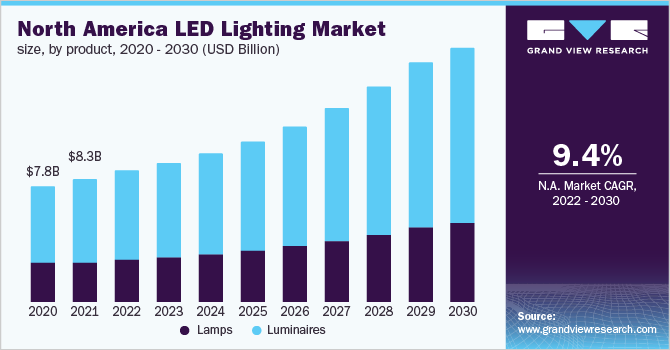 International Electrotechnical Commission, American National Standards Institute, and China Compulsory Certification are some major regulatory bodies that regulate product certification. Manufactures after obtaining relevant certifications to sell, import, export, and use the product in business and services. The governments of developed and developing countries are focused on lowering the high energy consumption, they are imposing various regulations related to quality which helps them ensure consumer safety, energy consumption, and monitor environmental issues. LED lights are energy-saving solutions that consume less energy and deliver 50,000 hours of illumination. Thus, strict government regulations related to the use of high energy-consuming lighting are anticipated to favor the market growth.
Initially, halogen lights were used in overhead surgical lighting creating distress for doctors during surgery or examination. Also, the examination room and minor surgical lights consisted of 50 to 100 W halogen bulbs which resulted in high energy consumption and high heat emission. Thus, rapid technological advancements in the medical devices industry to replace the outdated or inefficient devices/equipment and manufacturer approach towards integrating LEDs in surgical lighting, exam lights, phototherapy, and endoscopy to enhance the patient treatment experience are factors expected to boost the target market growth.
In 2020, the COVID-19 pandemic negatively impacted the global market. Strict lockdowns and temporary suspensions of construction sites resulted in a decline in demand for LED lighting. However, in the second quarter of 2021, construction activities witnessed growth with the introduction of new as well as redesigning projects, thus leading to the gradual recovery of the LED lighting market.
LED Lighting Market Segmentation
Based on the Product Insights, the market is segmented into Lamps and Luminaires.
The LED lamp segment is anticipated to register the highest CAGR over the forecast period owing to the increasing adoption of LED lamps in the residential sector.
The LED luminaires segment accounted for the highest market share of 55.7% in 2021 and continued its dominance in the global market. LED luminaires comprise the lights used on high bays, track lights, streetlights, troffers, etc.

Based on the Application Insights, the market is segmented into Indoor and Outdoor.
The indoor segment accounted for over 68.0% revenue share in the global market in 2021. This can be attributed to increasing demand from supermarkets, malls, and retail stores for efficient lighting solutions compared to fluorescent and High-Intensity Discharge (HID).
The outdoor segment is expected to witness moderate growth over the forecast period. This can be attributed to increasing infrastructure development projects related to airports, highways, and public places.

Based on the End-Use Insights, the market is segmented into Commercial, Residential, Industrial and Others.
The commercial segment dominated the LED lighting market in 2021 and accounted for more than 52.2% of the global revenue share. The commercial construction sector across the globe is witnessing rapid growth and demand for advanced lighting solutions among museum, exhibition, and gallery owners for better lighting applications are responsible factors expected to support the market growth.
The residential sector is witnessing faster growth globally, which is augmenting the adoption of lamps, floor lamps, cabinet lights, etc. Typically, the efficiency of LEDs used in the residential sector is expected to be over 100 lumens per watt (lm/W). Also, many developed countries are using LED with an efficiency of 110 lm/W to 130 lm/W.
Based on the Regional Insights, the market is segmented into North America, Europe, Asia Pacific, Latin America, and Middle East & Africa.
Asia Pacific accounted for a revenue share of over 42.8% in 2021 and is anticipated to witness high growth in the coming years. This can be attributed to rapid infrastructure development activities in developing countries, coupled with increasing initiatives by the government related to energy saving is expected to increase demand for LED lighting.
North America & Europe region accounted for a significant revenue share in the global market. This can be attributed to stringent government regulations and initiatives pertaining to energy efficiency.
Browse through Grand View Research's Electronic Devices Industry Research Reports.
Microcontroller Market – The global microcontroller market size was valued at USD 18.5 billion in 2021 and is expected to expand at a compound annual growth rate (CAGR) of 9.8% from 2022 to 2030. Globally, more than 29 billion units of microcontrollers were shipped in 2021. Microcontrollers are majorly used in devices that require a considerable degree of control utilized by the users. The increasing competition in the industry has led to the low price of the product, which will drive the demand for microcontrollers.
Power Electronics Market – The global power electronics market size was valued at USD 32.33 billion in 2016. The increasing demand for energy-efficient and battery-powered devices is likely to propel the global market over the forecast period. In addition, the urge for enhancing power infrastructure, increasing focus on the usage of renewable energy sources, and growing trend of energy harvesting technologies are the major aspects that are anticipated to catapult the industry growth over the estimated duration.
Market Share Insights
October 2021: Luminii, a U.S.-based global LED lighting solution provider announced the acquisition of Precision Lighting and Remote Controlled Lighting, two British lighting manufacturers. This acquisition is expected to help the company enhance its business presence and increase its customer base.
September 2021: Under EU regulations the minimum efficiency requirement for general service lighting was set at 91 lm/W. Likewise, in 2017, European Union started using an A (efficient) to G (inefficient) scale which is expected to help the customers make better-informed purchasing choices related to purchasing energy-efficient electronic goods.
Key Companies Profile:
Favorable business policies by the government of developing countries and backed by new venture capital firm is resulting in the emergence of new entrants in the market with an innovative solution. Likewise, major players are inclining towards acquiring major market share through strategic business acquisitions. Some prominent players in the global LED lighting market include,
Acuity Brands Lighting Inc.
Cree Lighting
Dialight
Digital Lumens Inc.
Hubbell
LSI Industries Inc.
LumiGrow
Panasonic Corporation
Siteco GmbH
Signify Holding
Semiconductor Co. Ltd.
Zumtobel Group Ag
Order a free sample PDF of the LED Lighting Market Intelligence Study, published by Grand View Research.
About Grand View Research
Grand View Research is a full-time market research and consulting company registered in San Francisco, California. The company fully offers market reports, both customized and syndicates, based on intense data analysis. It also offers consulting services to business communities and academic institutions and helps them understand the global and business scenario to a significant extent. The company operates across multitude of domains such as Chemicals, Materials, Food and Beverages, Consumer Goods, Healthcare, and Information Technology to offer consulting services.
Web: https://www.grandviewresearch.com
Media Contact
Company Name: Grand View Research, Inc.
Contact Person: Sherry James, Corporate Sales Specialist – U.S.A.
Email: Send Email
Phone: 1888202951
Address:Grand View Research, Inc. 201 Spear Street 1100 San Francisco, CA 94105, United States
City: San Francisco
State: California
Country: United States
Website: https://www.grandviewresearch.com/industry-analysis/led-lighting-market