ADHDOutLoud Announces Plans for Youth ADHD Q&A With Dr. Alice
Innovative ADHD awareness project, ADHDOutLoud, set to organize Youth ADHD Q&A With Dr. Alice, a youth-centered interactive session on ADHD hosted by Dr. Alice Edwards, parent coaching ADHD expert.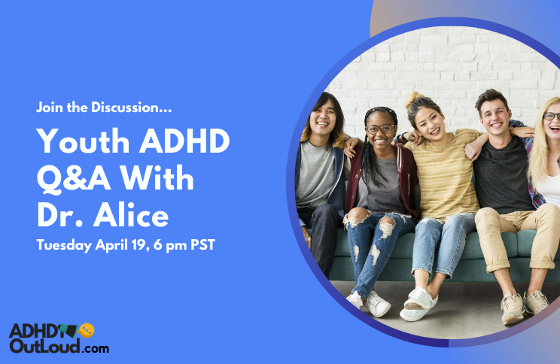 The ADHDOutLoud team has again reiterated their commitment to addressing the subject of ADHD in all its various aspects, as the initiative recently announced plans for Youth ADHD Q&A With Dr. Alice. The online event, which is scheduled to be held on Tuesday, April 19, 6 pm PST, is part of the goal of bringing awareness to ADHD and the struggles of patients, in this case, the youth.
The increasing incidence of ADHD has become a major cause of concern for millions of people in different parts of the world, with the Covid-19 pandemic further exacerbating the situation. It is even more worrisome as there are not enough resources to help ADHD sufferers. However, things might just be taking on a new shape following the launch of ADHDOutLoud and the upcoming ADHD Q&A With Dr. Alice.
Dr. Alice will be bringing her expertise in ADHD coaching for parents and a neurodiversity consultant to bear as she hosts the session and provides answers to all types of questions from participants. It will be an opportunity to learn from an expert in the field while also creating a platform for people to connect, and learn more about the ADHDOutLoud and efforts being put in place to help youths with ADHD.
The expert in family therapy for ADHD will be leveraging her diverse experience working with persons from all walks of life to educate youth as well as other participants on how to create a better world amidst struggles with ADHD.
For further information about Youth ADHD Q&A With Dr. Alice and how to be a part of the online event, visit The CEO Within.
Media Contact
Company Name: The CEO Within
Contact Person: Dr. Alice Vo Edwards
Email: Send Email
State: Nevada
Country: United States
Website: http://www.theceowithin.me/