Nishan forum spurs dialogue among civilizations and global cooperation
East China's Shandong, the home province of Confucius, recently witnessed a coming together of minds to discuss the ancient wisdom of Confucianism and explore the bright future of the human race at the 7th Nishan Forum on World Civilizations in the city of Qufu from Sept 27 to 28.
Confucius (551-479 BC) was a Chinese educator and philosopher credited as the first person to set up a private school to enroll students from different social classes. His thoughts and ideas have had a deep influence both in and outside China.
A total of 172 prestigious scholars and experts from 16 countries such as the United States, Germany, Hungary, and Japan, as well as 38 envoys and officials from 20 countries, attended the forum in person or via online platforms.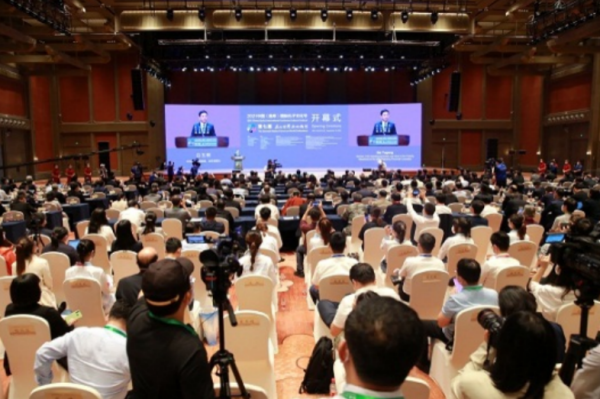 The opening ceremony of the 2021 China (Qufu) International Confucius Cultural Festival and the 7th Nishan Forum on World Civilizations is held in Qufu, East China's Shandong province on Sept 27. [Photo provided to chinadaily.com.cn]
Traditional Chinese culture, which is exemplified by Confucian culture, represents the wisdom and philosophy that Chinese people have been accumulating over the past thousands of years, said Hao Mingjin, vice-chairman of the Standing Committee of the National People's Congress.
Hao said that several core principles of Confucianism, such as benevolence, people-oriented governance, integrity, and harmony, are still very relevant to modern values such as peaceful development, democracy, and fairness.
"In the face of common challenges, no country or nation can survive on its own. Only when we work together for common development and harmony and replace isolation with exchange, conflict with learning, and competition with coexistence can we create a better world for mankind," Hao added.
"We should adhere to the concept of respect and inclusiveness and promote understanding and consensus among different civilizations through equal exchange. We should advocate for multilateralism and promote the common values of mankind through mutual learning. We should work together to build a community with a shared future for mankind and a better world for all," said Liu Yandong, president of the International Confucian Association.
The Nishan forum is aimed at promoting traditional Chinese culture and other cultures across the world, as well as enhancing communications and mutual learning between different civilizations, said Xu Jialu, honorary president of the organizing committee of the forum, in his letter of congratulations. He added that the forum has yielded fruitful results and has a massive impact since its inauguration 11 years ago.
A statue of Confucius in Qufu, Shandong province [Photo provided to chinadaily.com.cn]
The first Nishan Forum was held in September 2010, during which the Nishan Declaration of Harmony was issued, calling for dialogue and communication among civilizations.
Nishan is most well-known as the birthplace of Confucius, the legendary Chinese teacher and philosopher.
Three educational programs from Mexico, Cote d'Ivoire, and Egypt were honored with this year's UNESCO Confucius Prize for Literacy, which was held during the forum. All three programs used digital platforms to promote basic literacy.
The UNESCO Confucius Prize for Literacy was established in 2005 to recognize the efforts of individuals, governments, and NGOs in raising the literacy rate.
The 7th Nishan Forum on World Civilizations coincided with the 2021 China (Qufu) International Confucius Cultural Festival, during which the media trip "World Media Focusing on the Culture of Shandong" was also held.
Organized by the Foreign Affairs Office of the Shandong Provincial People's Government and China Daily, the media trip was designed to showcase the historical and cultural resources of Shandong province.
Foreign photographers, social media influencers and journalists from more than 10 foreign media outlets such as Russia Today (Russia Segodnya), O Globo, AgenciaLusa, CPEC News, CBS, SBS, and Kookmin Ilbo took part in the trip.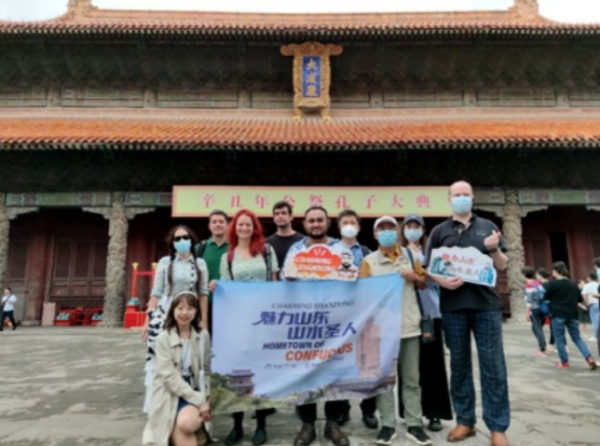 The media group poses for photo at Confucius Temple on Sept 27. [Photo/chinadaily.com.cn]
The expats visited Confucius-related spots in Qufu to experience the charm of traditional Chinese culture.
"The cultural atmosphere, the scenic spots I visited, and even every tree and blade of grass is amazing and impressive," said Riaz Muhammad Mudassar, a journalist from Pakistan CPEC News, while visiting the Confucius Temple, the Confucius Cemetery, and the Confucius Family Mansion in Qufu.
"I am a big fan and student of Chinese culture, and the trip allows me to learn about Chinese history, culture, and stories related to Confucius."
"It's good to see from this visit that the Chinese government is committed to preserving traditional philosophies like Confucianism," said Raquel Blanco Cerda, an online influencer from Spain. "Through these preserved cultures and restored monuments, the younger generation can learn more about history and Confucian culture and realize the importance of such culture."
The media group also visited Mount Tai and learned about Tai'an city's efforts to strengthen environmental protection and sustainable development efforts.
Their last stop was Jinan, capital of Shandong province. The media group learned about the city's efforts to build the Jinan Start-up Area for Growth Driver Transformation and strengthen the conservation of Yellow River Basin ecosystems.
Media Contact
Company Name: Shykad.ltd
Contact Person: Stanley
Email: Send Email
Phone: +86-13880101269
Country: China
Website: https://www.vvip-u.com/