Kimberly Moses hosts her annual life-changing event in November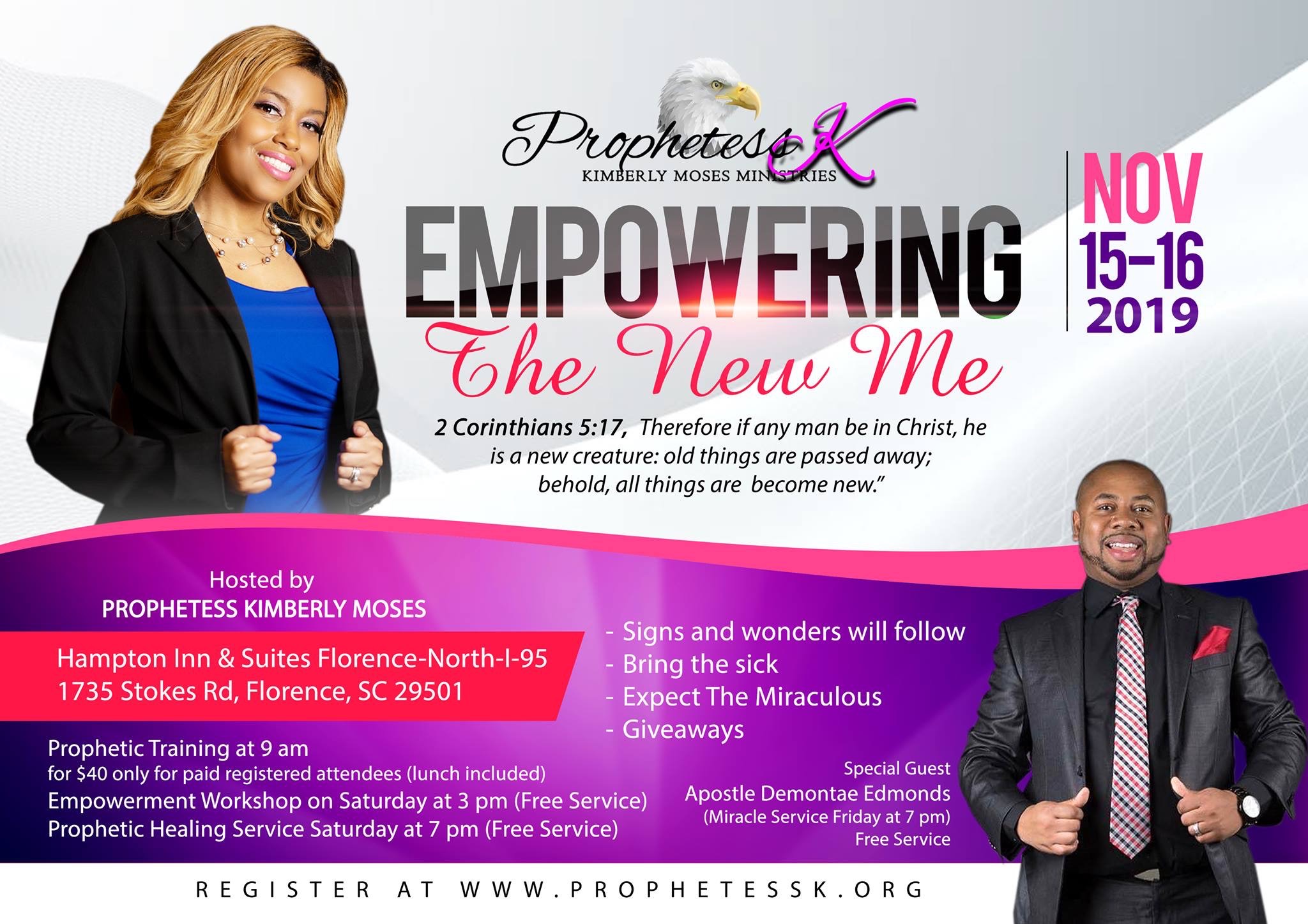 Publisher, author, and minister, Prophetess Kimberly Moses, to hold the annual transformational event organized by the Kimberly Moses Ministries at Hampton Inn and Suites in November
Kimberly Moses is a minister, author, publisher, and a sought-after prophetic voice and intercessor that is poised with spreading the Gospel of Jesus Christ across the globe. In a similar vein, the prophetess has done tremendously well in expanding her healing and deliverance ministry, holding several events to reach out to as many people as possible. One of such events is "Empowering the New Me," the 2019 edition of her annual life-changing ministration that offers an amazing transformational experience to attendees.
Over the years, Kimberly Moses has grown to become a channel for spreading the message of Christ. As a life coach and mentor to several women and families, Kimberly has continuously used a global mandate on her life to serve the nations of the world while also fulfilling the call of God on her life as an entrepreneur over several businesses. Kimberly's dedication to the work of ministry and serving others under the call of God is undoubted and she has used several platforms to achieve this goal. One of such avenues is her annual event where miracles happen, and lives are transformed.
Tagged "Empowering the New Me," the 2019 edition of the event is set to be another remarkable and miracle-packed 2 days. The event will feature Prophetess Kimberly Moses using her anointing to change the lives of attendees over the 2 days. One of the amazing miracles last year includes a leg growing out evenly to match the length of the other leg. The event will also have the likes of Apostle Demontae Edmonds as the special guest in a Miracle Service Friday that will commence at 7pm.
In addition to getting spiritual fortification and deliverance by the anointed ministers, there will also be a giveaway of some gift cards and other mind-blowing prizes. The event will also be a training session for the supernatural for paid registered attendees.
For more information about "Empowering the New Me" and other projects from the Kimberly Moses Ministries, please visit – http://kimberlyhargraves.com/.
About Kimberly Moses
Kimberly Moses started off her ministry as Kimberly Hargraves, accepting her call to ministry at the age of 30. Kimberly is also the author of 21 books, including her latest book "The Art of Meditation: A Daily Devotional." She has also been featured on Eternal Life T.V., CBN's Prayer Link, Glory 98.5 FM, and other platforms as she continues to spread the gospel and encourage others to believe God for their miracle.
Media Contact
Contact Person: Kimberly Moses
Email: Send Email
Phone: 910-587-0354
Country: United States
Website: www.prophetessk.org