Dr Tangela Harris announces the launch of her new book titled: There is Life After Thisss…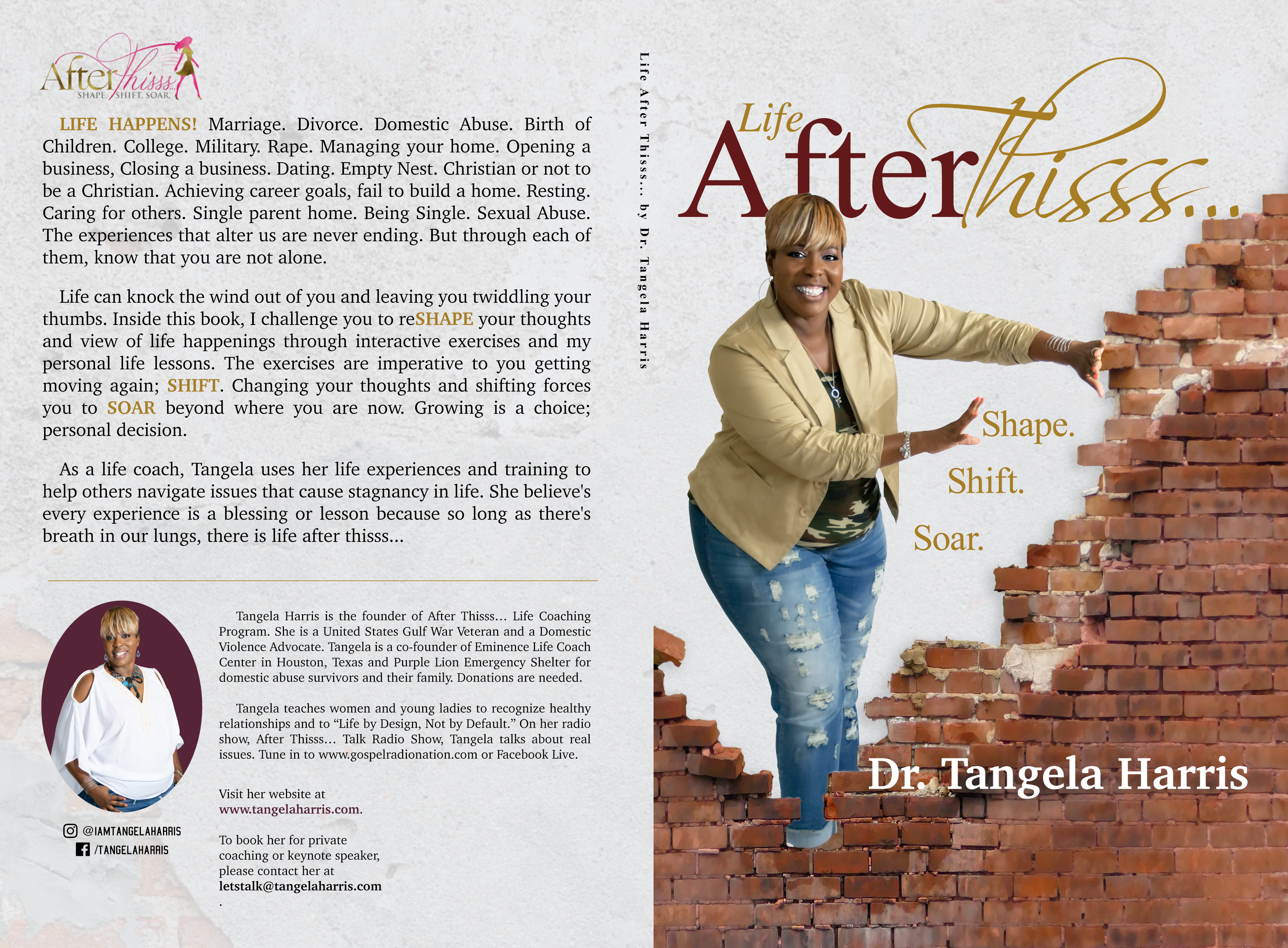 A road map for people to learn to REshape their thoughts, shift, and soar above all issues of life.
July 4, 2019 – Dr Tangela Harris, a licensed Christian Counsellor and a Certified Life Coach that is already known for evoking high-flying deeds when it comes to walking through journeys with women who have made the decision to move, proudly announces the launch of her new book titled "There is Life After Thisss…" A collection of life happenings and workbook to get the reader started in moving forward in life.
People tend to wear so many different hats based on life experiences, with so many people going through so many phases of life-threatening issues, "Life After Thisss…" serves as a road map for people to learn to reshape their thoughts, shift, move and soar above all issues of life. Dr Tangela Harris shared her life experiences in this book as a survivor of domestic violence at the hands of her ex-husband. It was a lonely journey for her, a professional going through something so life-defining with children and not thinking anyone would understand. But during the process, she was able to discover her authentic self and now, she helps others through their process to be the best and be fulfilled. She refers to herself as the "RE- word Girl", RE- means do it again. Refocus, Rest, Reset, Rewrite… All chapters in her book.
"I have experienced life on and off the battlefield; overcoming & surviving The Gulf War and now the war in Domestic Violence. I cannot keep silence; I have too much to say about "Bouncing Back", "There is life after thisss…", after losing everything to include my sanity, but God had a different plan for my life. I now train and empower young ladies & women to love themselves first, recognize a healthy relationship; dating, parental, intimate and self-care, get back up and do this another way," says Dr Tangela Harris.
Dr Tangela Harris is a United States Army Gulf War Veteran, Certified Life/Business Coach, Leadership Development Trainer, and a mother of two beautiful young people. She received her Bachelor of Business Administration degree in Entrepreneurship from the University of Houston, a Doctorate in Christian Counselling, and a retired professional hairstylist for 32years now. She is the founder of After Thisss… Inc. and the Co-Founder of Eminence Life Coaching Center where they host "& I Love Me More" annual conference for our young ladies in observance of February Teen Domestic Violence Awareness Month, as well as Eminent Ladies Tea Party for Teaching, Encouraging and Advancing. She loves to travel and see people free to live their best life. All these achievements and experiences have made her one of the best Life "Interrupted" Coach over the years.
For more information, please visit www.tangelaharris.com
Media Contact
Company Name: After Thisss… Inc
Contact Person: Dr Tangela Harris
Email: Send Email
Phone: 832-483-7059
Country: United States
Website: www.tangelaharris.com